Researchers of the Quadrennial Democratic Memory Plan of Galicia in Vilagarcía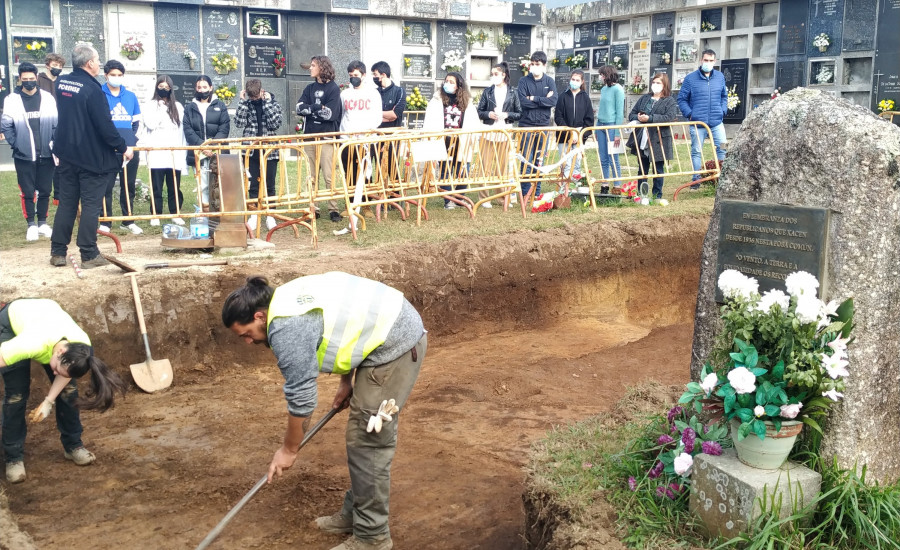 Researchers from the Quadrennial Democratic Memory Plan of Galicia will be in Vilagarcía on January 12
Next Wednesday, January 12 @s researcher @ s of the Cuatrienial Democratic Memory Plan of Galicia will maintain a meeting at the City Council of Vilagarcía with the Mayor at 09:45 h. and at 1:00 p.m. at the Faiado da Memoria Headquarters, with the families murdered in 1936 and buried in the common grave of the municipal cemetery.
Historian @ S, archaeologist, the forensic and geneticists will give an account of the work that we are from September to December carried out in relation to the irregular burials that the 1936 dumps performed at the Municipal Cemetery of Vilagarcía de Arousa. They will explain the documentation, exhumation, forensic and genetic analysis tasks that were carried out in those months and that some of them are still being carried out.
In the first place, they will visit the City Council in an interview with the mayor, to thank him for his support for the excavation that was carried out in the funerary site. After this first meeting, they will be transferred to the Faiado Headquarters where they can show the investigations to the families of ASASINAD @ S, in addition to thanking their collaboration and full willingness to collaborate in the tasks of research.
Finally, progress will be shown in the research and first conclusions waiting for the definitive analysis of the appended remains that is being carried out by the Forensic Fernando Serrulla and the legal medicine team of Angel Carracedo.
In the different tasks that the CABOR was taken, the HistaGra Group, coordinated by the contemporary history professor Lourenzo Fernández Prieto, the Synchrisis Group, which is part, as coordinator of the Archaeologists team, Professor José Carlos Sánchez Pardo; the forensic anthropologist, Fernando Serrulla, from IMELGA, and the team of geneticist Ánxel Carracedo. The archaeological works are carried out by Archaeological Times.
The support of civil society, of the Association or Faiado gives Memory - which kindly gives us the premises to maintain this meeting, as well as total support since the beginning of the work - and the people of Vilagarcía was fundamental for the work initiated Under the protection of the Quadrennial Democratic Memory Plan, it will come to fruition.